I found out about Izam through Pipit, and I was instantly hooked by his artworks and funny zine, Ngehehe. I am so happy that he spent some time answering a few questions from me, and giving you guys a great fun read. If you were like me, an art surfer, you probably have come across his beautiful artworks on deviantart and treadless.
First of all, please give me a brief bio about yourself, where do you come from and how do you started in this field.
My name is Muhd Kamarul Izam, just called me Izam. I came from Kuantan, Pahang, currently staying in Ukay Perdana, Kuala Lumpur. I've been a graphic designer for about 5 years now. I just started creating things like zine, handmade and etc this year. However I have been planning this for a couple of years before!!! I'm slightly tired of doing what other people want instead of my own desire. Now I would love to do things that I love. And I would say it's more satisfying!!!
What are worst bits of doing what other people want instead of doing it the way you like it back then?
They don't even know what they want!!!
You must have been having a hard time back then. What is your approach to design?
Everyone has their own way. For me, I would do a lot of research and ignore things that they don't like (if they ever tell you of course). If you can't never always crack an idea yourself, you can have a group discussion or do brainstorming to get the better result instead. In my opinion, it always works when working in a team! Because we need everyone inputs and information to solve the problem.
That's great advice for budding designers out there. Besides that, what inspires you to keep on going and how do you keep yourself motivated. Any influences or anyone you look up to when it comes to designing?
What inspires me to keep going is definitely moral support from everybody especially my family, friends, and colleagues. To get myself motivated, I always observe other designers' works; local & internationals. Right now, I'm still polishing my skill and trying to establish my own style. My influences is vary; from comic artist, designers, painter, musician or even from anyone.
Any graphic designers do you look up to? Why?
I have so many of them I don't know where to start. One of them is David Arias. He amazes me the most. I love his simplicity, cleanliness and the attention to details that he brings!!! You will try to figure how the hell he did that?!! Or why can't I think of that before?!! And that sort of designer will bring a lot of inspiration and surely haunted me!


Among all his works, which one are you in awe with?

Tell us what your personal zine is all about?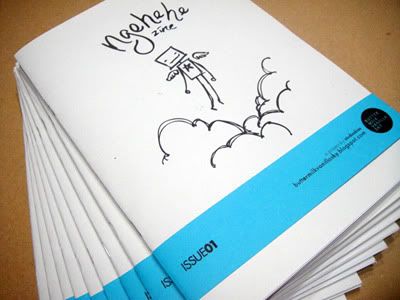 For the 1st issue, it's pretty much of everything that I love to do: my personal issue, comics, drawings and everything for my self establishment. No individual theme yet, most probably on the next issue itself. But no doubt I'll improve my zine from time to time.
What are the worst and best bits while producing this personal zine?
The worst is to get the right material for the zine and as well as the type of paper that I want to use. The best bits will certainly be when I've completed the zine. I have to say it is indeed satisfying!!!
What is the significant of Awan and Ngehehe?
Awan and Ngehehe share the same purpose, view and interest except that Ngehehe is more emotional and personal to me.
AWAN actually created purposely for the blog. Awan focuses on what's happening around me. On the contrary, Ngehehe will be featuring more on what's happening inside of me. Awan is a journey to capture anything, anywhere and anybody that could or will inspire myself and other people. With Awan, I could motivate myself to get involve more with my surrounding and get as many experience as I could. This also will help me to learn to become a better person, not just for me but also to others.
Awan is a Malay word as we all know, it means Cloud. I love to look above the sky and be in awe of the cloud that always keep changing their shapes. Everyday, it constantly has a new shape up there. And at all times it moves around whenever the wind blows. That's how I look and fall in love with what's around me. Although it might not change everyday, but it's surely changing. That's why you have to keep on observing the surrounding. Besides that, it's a unique metaphoric name to symbolize my perspective or view to the world through a window of Malaysia.
Ngehehe suppose to be a fun and entertaining! I'm trying to have a good life and enjoy my zine. And all these are meant to share.
When can we look forward to your next personal zine?
Wow. Hopefully, I can produce it an issue for every 2 or 3 months, so that it can be more productive. I haven't really plan for anything yet for the next issue, but it will come soon. So sit tight and look forward to it.
All the best to you. How was your personal zine, Ngehehe coming along?
It's great. I'm very excited. The best news so far; I just got an interview from you!
hehe And thank you very much. I truly appreciate it.
You are welcome. I was visiting Pipit and I came across your personal zine. I totally love it so much. I read that recently you were in flea market business at Neo Damansara. How was it?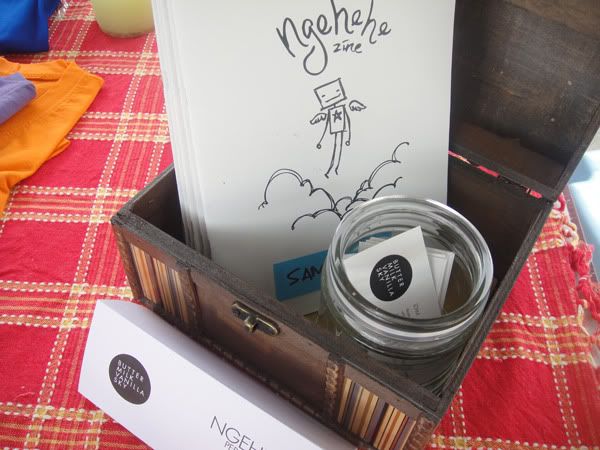 Thank you. I'm totally a baby in flea market business. I'm just tryingmy luck there. I will most probably doing it again and see how thing goes from there.
Do you had the chance to meet any designers there?
Not really, I met some people who are interested about my artwork that they thinks that my idea can be further expand. Furthermore, it's a new flea market, not many of them were coming. They hardly know these place and the timing is a bit off. No doubt, it's need a good promotion too.
I have to say, I can't agree more. I once watched a documentary that said all artist and designers lives in New York and Brooklyn because there are more opportunities. Do you think living in Malaysia will helps you recognized in this arts industry?
You will be recognized, no matter where you are. You just need to know how to establish yourself. Nowadays, we have tools like internet, so we as a designer should make the best out of it and spread our talent.
When you look back, what was the most pleasing about your success so far?
Before I start doing what I'm doing now (or before I quit my job), I had an opportunity to push myself further as a graphic designer but at the present, I'm trying to break free from my comfort zone, taking a risk, struggling for my own survival and chasing for my passion,. I have to say that's a real success to me. I wish I have done this along time ago but I guess, everyone has their own 'right time'. And this year. I'm going to do it
No offence. But is it easy to survive in arts industry without a permanent job? I'm curious since I'm just a student.
It depends. You can do both, you just need to know how to manage your time. In my case, in the past when I'm still an employer, I doesn't really have the time to do anything else. That's why it took me a long time to do what I'm doing now. Right now, I'm still a graphic designer, working as a freelancer to survive.
If you can only use one colour, what will it be?
That's a tough one. I do love black, although it doesn't really considered as a colour. It makes everything look easy, not in a bad way of course. It does have a very strong personality to be able to stand strong just by itself. This sound a bit ridiculous right? But that's what I feel.
Nah. That's your point of view. Nothing wrong about it. Finally, any special plan in the near future that we should take note of?
Well, the zine is actually one of the first plan to be realized. There will be more other things that I would love to produce or establish soon.
20 pages
drawings/vectors/comics
black/white
RM8 per copy, postal included
(currently for Malaysia only)
Interested to purchase Ngehehe, click here.